Forging a Sustainable Life
It's not often you meet people like Wendie McCaffley and Guido Gouverneur – a couple who have packed so much into a lifetime that it's hard to keep track of it all. After long and illustrious careers, the successful blacksmiths left a booming business behind in Sydney to buy a remote property in Nulla Nulla, west of Kempsey in the Macleay Valley. Guido and Wendie now face their most exciting creative challenge yet – living the sustainable dream.
Driving into Nulla Nulla Farm is like entering a long-lost Garden of Eden. Located a stone's throw from Slim Dusty's childhood home, the property is an island of lush greenery encircled by the pristine waters of Nulla Nulla Creek. It's not hard to see why Guido and Wendie, who moved here last year, fell in love with this place and the potential it holds.The creative Kiwi couple met in Australia and established their business, Wrought Artworks in 1987. Guido was already an accomplished blacksmith, having learned the trade from his father in what began as a literal baptism of fire."I was about five years old and watching my father work, when a spark flew up, landed on my woollen jumper and burned a hole straight through it," Guido says. "It made such an impression on me. From then on, I was hooked!"Wendie, an accomplished textile artist and fashion designer, became enthralled with the ancient craft of blacksmithing as she watched Guido work. After completing an apprenticeship, she quickly developed a name for herself creating architectural metal sculptures and lighting fixtures for a number of Sydney homes, calling them her 'Wendie houses'.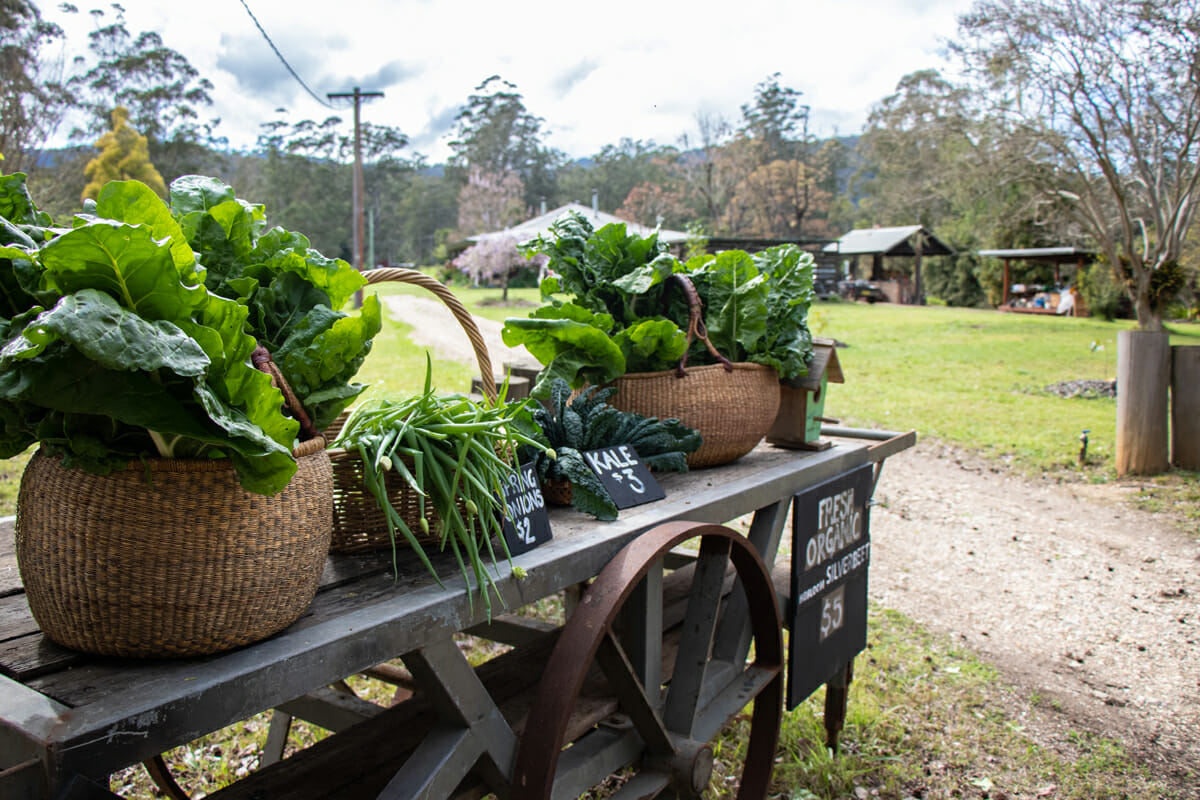 Fresh produce is available daily at the farm gate
When the couple took over the Eveleigh Locomotive Workshop in 1991, Wrought Artworks went from strength to strength – employing up to 30 staff and creating some of Sydney's most iconic metal structures. It was during this time that Guido was commissioned to craft the Dawes Point Harbour balustrade – the most photographed railing in Sydney. Wendie and Guido became well-known in Sydney creative circles, garnering media attention as they campaigned to save the government-owned workshop from being sold to developers.
"It was such a busy time," Wendie says. "It was just work, work and more work – plus we had two kids to raise! During that time, we always had the dream of buying a property, growing veggies and working on our own designs rather than big commissions. Even in the city, we had free range chooks and grew our own food – sustainability has always been a priority for us." When the government sold the historically significant Eveleigh workshop to development giant Mirvac last year, Guido and Wendie took it as a sign that it was time for a change.
"When they decided to sell this amazing heritage site that we'd spent 25 years getting going, we knew we had to go," Wendie says. "We couldn't fight it anymore."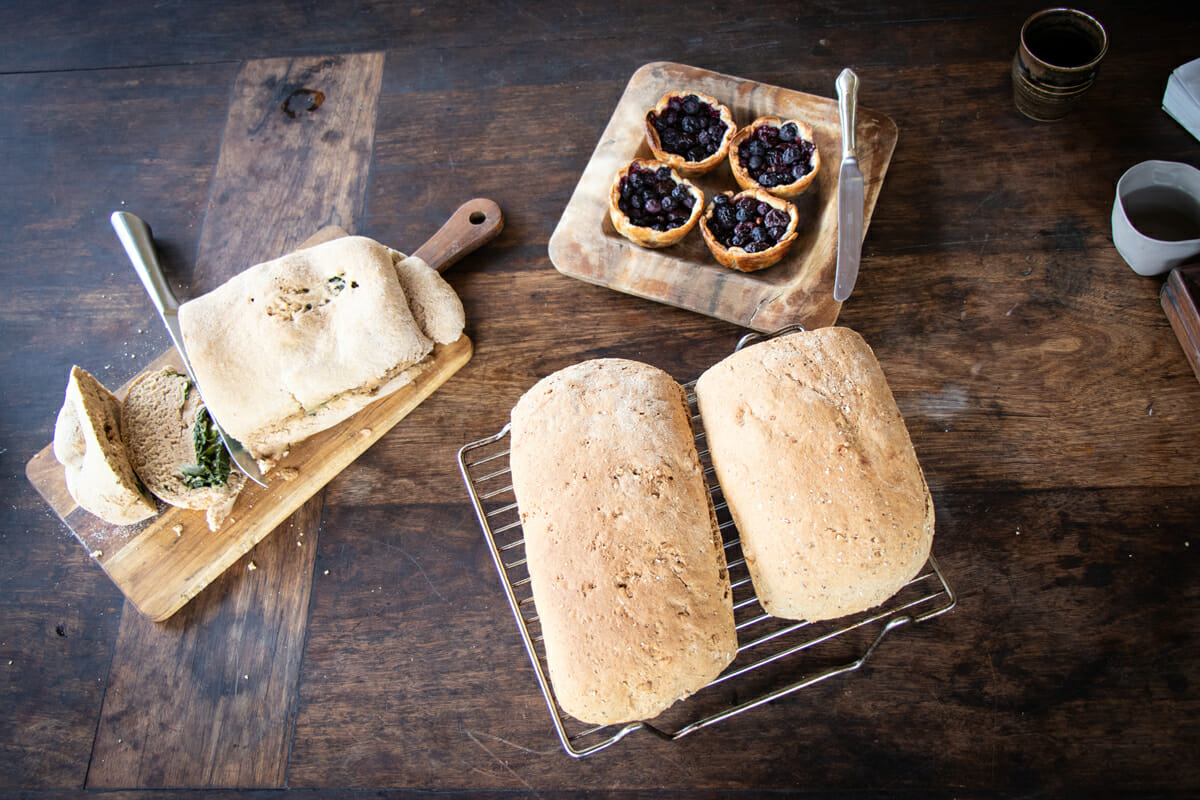 Fresh food is a high priority for the couple
"We threw ourselves into learning everything we could about sustainable farming and rented a house on an avocado farm in Telegraph Point while we looked for the right place to settle." After an exhaustive search, they finally found Nulla Nulla Farm – a park-like property with its own golf course, an old horseman's cottage to holiday let and a beautifully crafted stone homestead. The couple swiftly adapted to the lifestyle change.
"While I do sometimes miss the income, I enjoy the fact that you can get by on the smell of an oily rag here," Guido says. "Living in Sydney, a lot of your money is spent paying for things to compensate for being there. Now I feel like we can finally make the things we want to make. This is exactly what I want to be doing."
Wendie agrees. "I've never been so happy – I don't think I knew what happiness was!" She says. "When we got here, I thought, 'so this is what it feels like to relax!'"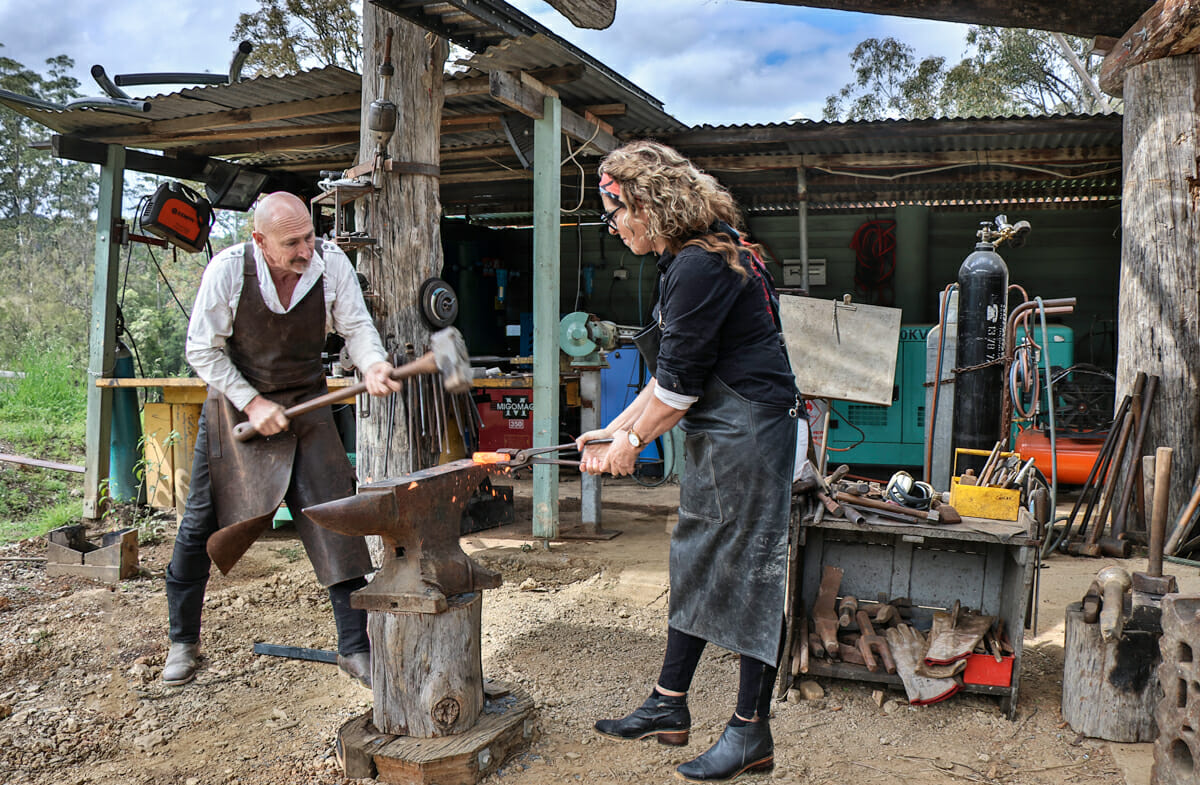 Blacksmiths in action
It's clear that, for Wendie and Guido, the idea of 'relaxing' means anything but sitting idle. In the year since settling at the farm, Guido has completed a sought-after commission to recreate Ned Kelly's famous armour for an upcoming Russell Crowe movie whilst also assisting Wendie to plant hundreds of fruit trees and establish a market garden. He was also recognised with a lifetime achievement award for his heritage skills by the National Trust Heritage Awards 2018. At the same time, Wendie and Guido have managed to convert the cottage into a popular retreat where guests can enjoy a home-grown veggie hamper, freshly baked bread and private yoga classes (Wendie is a yoga teacher). The farm also offers a camping option where all the gear is provided. Much of it, as well as the cottage furniture, has been made by Wendie and Guido.
It's all part of a plan to put their artistic skills to practical use. The couple eventually aim to run homesteading workshops, teaching people how to create everyday items like wooden spoons and
gardening tools.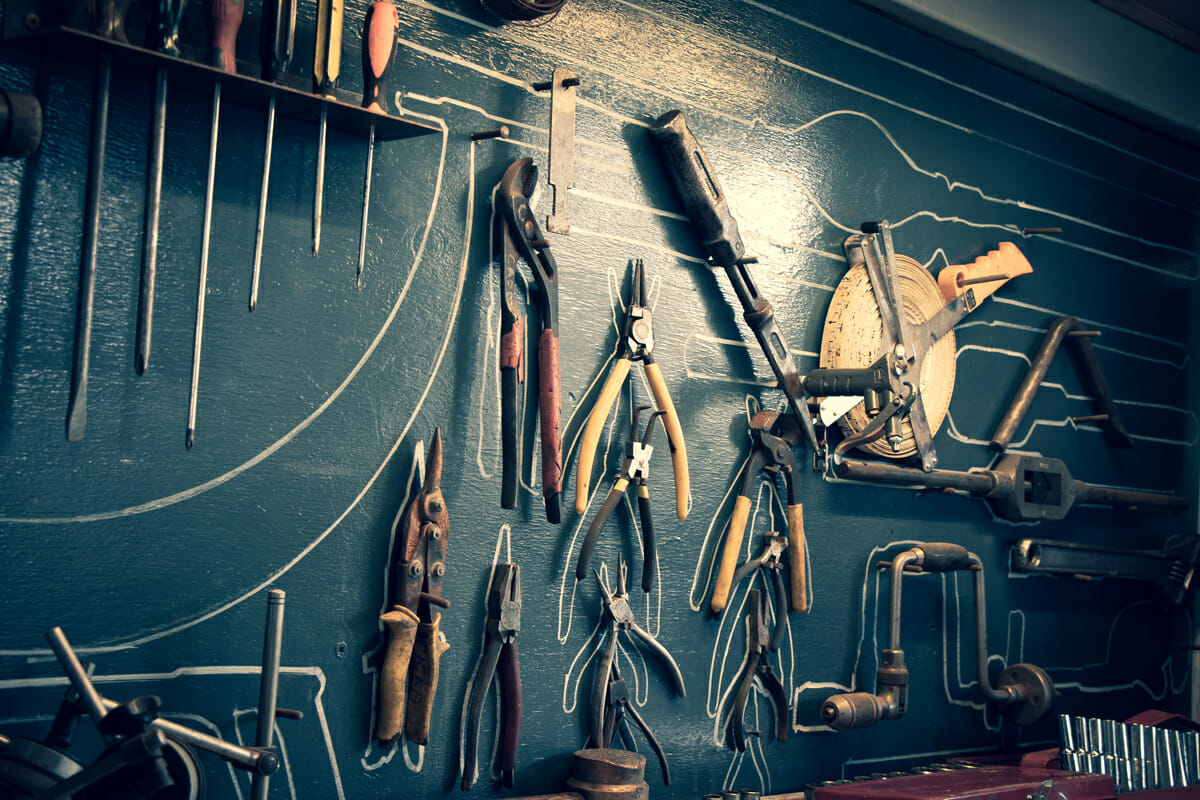 Tools of the trade
According to Guido, "There's a resurgence in craft just as there's a growing interest in sustainable farming. We want to show people how to fix things and get them comfortable with having a workshop, carving with timber and growing food."
"People need confidence to do this for themselves because the world needs a new generation of farmers," Wendie agrees. "We believe that growing food and living sustainably is the most important thing we can do right now."
Fresh produce from Nulla Nulla Farm is sold at the Kempsey Riverside Markets and the Gladstone Quality Markets. Find the Nulla Nulla Blacksmiths Retreat on www.airbnb.com.au
coastbeat magazine
nulla nulla blacksmiths